LED Memoir (From 1960 to Today)
LED has become an irresistible component of illumination industry. Let's take a brief look over the developments of LEDs.
"The phenomenon of Electroluminescence was discovered in 1907 by H. J. Round at Marconi Labs and then begun a series of researches, experiments and inventions on this. Oleg Losev in 1927 for the first time observed light emission from crystal light diodes. Years later in 1961, Robert Baird and Gary Pittman invented first IR LED for Texas Instruments. Though it was first LED, the emitted light ray was not in a range of visible light spectrum."
What does the term LED stands for?
The term 'LED' stands for Light Emitting Diode. This tiny semiconductor device is defined as a low power consuming bright source of light that glow when electron flows in semiconductor.
LED works on principle of electroluminescence, a phenomenon in which a device emits light in response to the passage of an electric current. LED is a p-n junction diode that works in forward bias to emit photons. When DC voltage is applied across the terminal of LED, electrons from n-side cross the junction and recombines with holes at p-side. On recombination, energy release in form of packets, these energy packets are also known as photons.
Who invented first Visible Light Emitting Diode?
Nick Holonyak, an engineer from General Electric (GE) Company invented first visible red LED in 1962.
Who was awarded for Noble Prize in Physics in 2014?
Shuji Nakamura¸ Isamu Akasaki and Hiroshi Amano, all three of them were jointly awarded Nobel Prize in Physics in 2014 "for the invention of efficient blue light-emitting diodes which has enabled bright and energy-saving white light sources". Shuji Nakamura from Nichia Chemical Corporation invented Blue LED in 1994 using Indium Gallium Nitride semiconductors. In parallel Isamu Akasaki and Hiroshi Amano from Nagoya University produced blue LED from p-doped GaN. This invention brought a big revolution in the field of Illumination Lighting.
Why does the invention of Blue LED consider as a major breakthrough in Illumination Technology?
The invention of Blue LED is basis of modern energy efficient and eco-friendly Illumination technology. It was only after invention of blue LED, production of white LED light became possible and LED became popular as light source.
How does white light produce from LED?
Following are two approaches to produce white light from LEDs: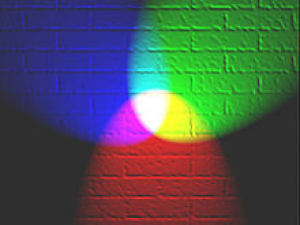 a. RGB Mixed White Light: White light can be produced by combining red, green and blue light. The combination of photons from three primary colors (Red, Green and Blue) when mixed in equal proportion, emit white light.
b. Phosphor White Light: White light can also be produced by passing light from blue LED through phosphor coating. Blue photons after passing through yellow phosphor produce white light.
LEDs & Applications
Solid State Lighting is another widely used term for LED lighting technology. LEDs emit visible light due to recombination of holes with electrons which are embedded inside a solid semiconductor material. This is why LED technology is also known as Solid State Lighting (SSL).
What is Illumination and Indications?
Illumination means utilizing a light source to view other object. When light from a source get reflected after falling on objects and make object visible. Indication means using a light source as a self-lighting object or as an object which is to be seen. For applications like sign boards or signaling or display for electronic devices like T.V. or Cell phones.
Does LED Lighting Solution really cost high?
No. LED products have been proven very economic in their overall period of operation. LED Lighting offers an immense money saving in low energy requirements and low maintenance cost during their overall life-time, which is 50,000 hrs approx, that clearly gives ground for its high initial cost. For a long and reliable operation, manufacturer/designer has to put a continuous effort on overall system efficiency, optical control, and thermal management of the lighting products. The fact is 'More expensive the technology is, longer will be the performance and lesser will be the power consumed'.
What are the benefits of using LEDs in Industries specifically?
The benefits of using LEDs in Industries are as given below:
Better focus on work area
Less power consumption
Safer due to low glare
No start-up time
Lesser heat in beam
More resistant to breakage & vibrations
Lower maintenance cost
How long an LED light will last if the rated life period is 50,000hrs?
Based on how long a light product is operated daily, the life of LED lighting product is:
24 hours/day: 5.7 Years
18 hours/day: 7.4 years
12 hours/ day: 11.4 years
8 hours /day: 17.1 years
Understanding Performance Parameters for Lighting:
'Lumen' measures total amount of visible light produced by a light source and 'Lux' is unit for the measurement of illumination intensity at specific area and it can be defined as 'the amount of Lumens per square meter'. Both Lux and Lumen gives a realistic measurement of light output. 'Watt' tells about the power requirement for light source and therefore more 'Watt' indicates more electricity consumption. A better light source has higher lumens/watt.
What factors should be considered while selecting a lighting product: Watt, Lumen or Lux?
With rapidly developing lighting industries, it is proposed to look for bright light output (High Lumens) and Low energy consumption (Low wattage). For applications where it is required to focus lights on a specific work area, 'Lux' can give more genuine comparison compared to 'Lumens'. LED Lighting products have the potential to provide High Lumens at Low Wattage when compared with metal halide, HPSV or CFL lamps.
Illuminance is the amount of luminous flux per unit area. Its SI unit is lm-m-2 or Lux.
What is Correlated Color Temperature (CCT)?
The color of emitted light can be measured on degree Kelvin scale. One can choose temperature below 3000K for warm white light, near 4000K for natural white light or 5000K for more for cool white light.
What is CRI and how important is it?
CRI or Color Rendering Index is an ability of a light source to show the actual or natural color of the object. Measured in between 1 to 100, a light source with CRI rating > 75 is better in faithful reproduction of the color of the object.
Binning is a process of sorting LED on the basis of their color consistency and light output. The best bin has high consistency in color and high light output and is therefore expensive to buy. You may find a wide range of Bin Codes in the datasheets provided by manufacturer representing different light output. The LEDs are assigned a bin code to confirm their colors, lumen output and forward voltage during their manufacturing process.
Lumen maintenance is comparison of amount of lumen output from luminaires when it is fresh to the amount of lumen output left after an elapsed time of operation. Lumen Maintenance is the inverse of lumen depreciation which is the comparison of amount of lumens output from a light source to the amount of lumen reduced after a certain period of operation.
What is Efficacy of light or Luminous efficiency?
Efficacy of Light or Luminous efficiency is the ratio of output luminous flux (lumens) to the input power (watt). It tells about how efficient a source of light is to produce visible light from electricity. Luminous efficacy is expressed in terms of lm/Watt. Luminous efficacy is different from efficiency as efficiency is the ratio of output power (watt) to input power (watt) and it is unit less quantity.
Why does LED products of same watt, cost different?
Yes. There is a difference in quality and the performance of the light product that makes their cost different. Not all LED light products are built to last. The difference in costs may be due to the different cost of lighting modules for bright light output; cost of fixtures for safety and ingress protection; AC-DC or DC-DC drivers for low power consumption and electrical safety, optical system for better focus and thermal management system which ultimately affects the life period and maintenance cost of the products.